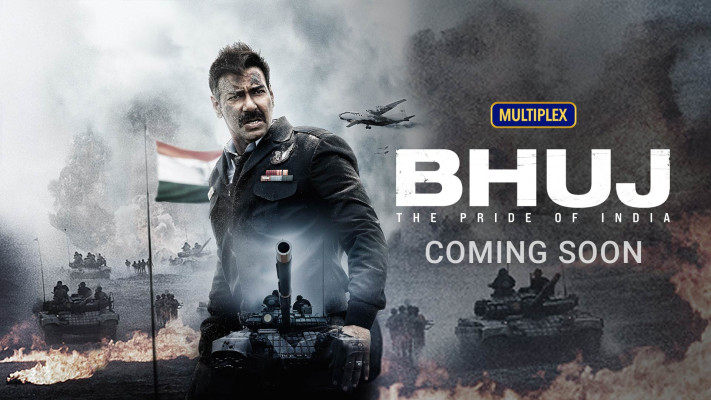 FF Network 
There is good news for the fans of Ajay Devgan. The actor has finally unveiled the trailer of his forthcoming film Bhuj: The Pride Of India on Monday. Ajay Devgan took to his Twitter account to share the news. He tweeted, ""When bravery becomes your armour, every step leads you to victory! Experience the untold story of the greatest battle ever fought, #BhujThePrideOfIndia."
The trailer is high on action and patriotism. Bhuj: The Pride Of India is directed by Abhishek Dudhaiya. The film is based on the 1971 India-Pakistan war. In the film, Ajay Devgan will be seen portraying the role of Squadron Leader Vijay Kumar Karnik. Vijay Kumar Karnik was the in-charge of the Bhuj airbase when the war broke out between India and Pakistan in 1971.
The film's cast also includes Sanjay Dutt in the role of Army Scout Ranchordas Pagi and Sonakshi Sinha playing the role of a social worker Sunderben Jetha Madharparya. Nora Fatehi will also be seen in the film playing the role of Indian spy along with Ammy virk as flight officer Vikram Singh Baj Jethaaz.
The film has sought inspiration from the life and journey of Vijay Karnik and depicts how he with the help of 300 women from a local village reconstructed the whole IAF airbase.
The most awaited trailer starts with an airstrike at the Bhuj airport. As India finds ways of stopping the Pakistan army, viewers will get to see the sights of how the characters of Ajay, Sonakshi, Sanjay, Ammy Virk and Nora Fatehi are high on patriotism. You will witness several action sequences that may include missile launches and fierce attacks on warships.
As the trailer ends, you will notice Ajay Devgan rising from the debris and announcing, ""Mere marne ka maatam mat karna, maine khud yeh shahdat chuni hai. Main jeeta hoon marne ke liye, mera naam hai sipahi (Don't mourn my death, I have chosen martyrdom myself. I live to die, I am a soldier)."
You will certainly get goose bumps as you watch the entire trailer and it will fill you with patriotism. The duration of the trailer is 3 minute 20 seconds. The trailer has so far received 8.4 lakh views on YouTube. It has received 1.8 lakh likes.  Here is the trailer:
The trailer shows that Squadron leader Vijay Kumar Karnik along with his team fought the Pakistan military when they had raided the Bhuj airbase for a massive 35 time in a span of 14 days. Squadron leader Vijay Kumar Karnik put up a strong fight with his team and defeated Pakistan armed forces.  
It is worth mentioning that Ajay also directed one of the action sequences in the film as a result of the unavailability of stunt coordinator Peter Hein.
A few days back Ajay Devgan had released the motion poster of the film. Here it is:
Bhuj: The Pride Of India is scheduled to premiere on August 13 on Disney+Hotstar just two days before Independence day.