By Anuradha Punyani
Anurag Kashyap has not only brought about the necessary changes in Hindi cinema, but he has also given it a new identity to be proud of. Along with Ram Gopal Verma, Vishal Bhardwaj, Dibaker Banerjee, and Tigmanshu Dhulia, he is one of the faces of the new wave in Indian film industry. Anurag Kashyap has directed some of the top Bollywood films of the last two decades. He is possibly India's only contemporary director who creates realistic films with strong entertainment value.
Anurag Kashyap's films are noted for their Tarantino-style brutality and wit. Kashyap has acquired the capacity to make audiences laugh during the most bloody of sequences over the years. We've ranked Anurag Kashyap's flicks from least to most likable purely from a public point of view!
Anurag Kashyap's Top 10 Films
GANGS OF WASSEYPUR
Before Wasseypur, Anurag Kashyap had already created three excellent films. However, Gangs of Wasseypur is his final masterpiece, and it will be remembered as a pivotal picture in Hindi cinema for decades to come. Gangs of Wasseypur is Anurag Kashyap's most ambitious film to date, being released in two parts. It's an epic gangster saga that spans seven decades and depicts the life and times of a small Indian hamlet. People drew all kinds of parallels between Wasseypur and 'City of God', The Godfather. Gangs of Wasseypur is, without a doubt, a love letter to the crime genre, and it will remind you of every classic in the genre.
THAT GIRL IN YELLOW BOOTS
The deepest secrets can sometimes be found in plain sight. Ruth, a teenager searching for her long-lost father, was the protagonist of Anurag Kashyap's That Girl In Yellow Boots. The boots served as a visual representation of struggle and survival. The color yellow represents the shadiness that her job (an even shadier massage parlor) has brought into her life. She gives 'handshakes' since she is having difficulty obtaining a work permit due to the numerous lines of paperwork she must complete. "I love India," she adds, hoping to put an end to her ordeal at the visa offices, but it doesn't. In a bizarre way, the climax of That Girl In Yellow Boots reminds you of the Korean thriller 'Oldboy,' and comparing this picture to Oldboy is a big compliment.
MANMARZIYAAN
Manmarziyaan is a very stunning film. It beautifully captures every setting from the very beginning to the very conclusion. Especially in intimate situations, tracking and close-up views are used extensively. The music is fantastic. There isn't any sort of song or dancing routine. Instead, it fades into the background and becomes an integral part of the story's progression. In this film, there are so many distinct elements to appreciate. Unfortunately, Anurag Kashyap fails to bring them together in a compelling package that will make a lasting impression.
CHOKED
All of Anurag Kashyap's characters have a dark side. They have the appearance and behavior of a diverse group of darkly comical hounds who are always on the prowl for something better. Kashyap carefully creates the lives of middle-class Mumbai individuals in his latest Netflix presentation, "Choked." The line is drawn again and again in Kashyap's Choked, ignoring the storyline that may have made it more memorable. A middle-class family grappling with morality and greed as their kitchen-sink problem devolves into a jumble of magic, for example, may have produced a more substantial and complicated human drama than the one we get here. Choked's audience will be split. The film will be separated into pre-Choked Kashyap and post-Choked Kashyap segments, similar to the demonetization period it depicts.
PAANCH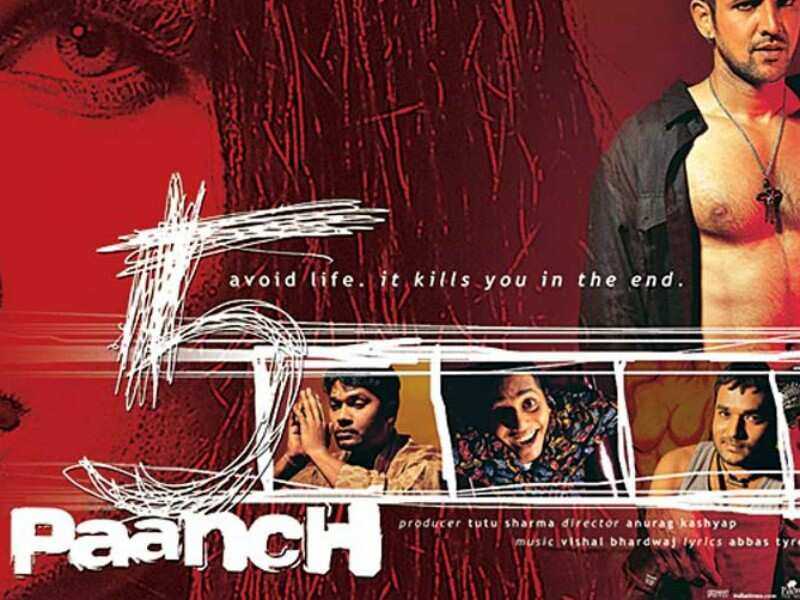 Paanch is a cautionary tale that also serves as a meditation on the juvenile nature of evil. Paanch tells the story of five slackers whose sole purpose in life is to have fun and get inebriated. Every act of evil begins with a small step, then a second, and so on until the perpetrators realize they are neck-deep in the suffocating muck of evil, yet they continue to do so, first out of pleasure, then out of compulsion. Those who step into this vile muck are doomed to perish in the deepest trench of hell; there is no way out. Paanch is a gruesome suspense film. In India, however, it was not released in theaters.
MUKKABAAZ
On the surface, Mukkabaaz is a love story about Shravan (Vineet Kumar Singh) Singh, an amateur boxer from Bareilly. His love for boxing is unwavering. Shravan's father mocks him by revealing how meaningless the winning cup is in one episode. Shravan retaliates vehemently, claiming that boxing is his passion and that he doesn't know what else to do with his life. Shravan's entire passion crescendo depicts Anurag's ongoing fight to exist in this financially driven Bollywood "business" and express the things he wants to tell in his intransigent voice.
NO SMOKING
No Smoking is Hindi Cinema's own mind-fuck, a fearless experimental film right out of Anurag Kashyap's 'Prayogshala.' The climax of a film that was supposed to be about smoking becomes increasingly perplexing and odd as it goes, and the viewer's mind is bound to be numbed. Surrealistic aspects are also present, which are uncommon in Indian cinema.
RAMAN RAGHAV 2.0
When you watch Ramanna dismantle his victims in Anurag Kashyap's Raman Raghav 2.0, you have a peculiar smile on your face. It's not because Kashyap somehow manages to rationalize the film's enigmatic murders. It's also not because he tries to persuade you to support his murderous machine. But because the picture aims at the side of the human psyche that is rife with violence and disorder. He punches a dark, blunt hole in your mind, jolting you into a state of spine-chilling psychosis. This is a picture that never holds back when it comes to delivering evil.
DEV D
The eponymous character DEV, as played by Abhay Deol, is not a nice figure. He is an avant-garde dick, unlike Bimal Roy's charming Dilip Kumar or Sanjay Leela Bhansali's tragic Shah Rukh Khan (The D in DEV D stands for Dick). He settles on the simplest path out of his hopelessness, basically disintegrating and drinking himself to death. Most of all, he's perplexed. He never appears to choose the best option. In true Kashyap fashion, he puts on his shades before answering the phone.
UGLY
The subject of ugliness isn't new; Ben Affleck's 'Gone Baby Gone' and Denis Villeneuve's 'Prisoners' both included child abduction. However, in those films, the focus is always on what happened to the missing child, making them a gripping thriller to watch. Ugly, on the other hand, is a very different film. It doesn't go into great detail about discovering the missing girl, instead of focusing on the important players' ever-changing mindsets.
That was our list of the top Anurag Kashyap films which offer a unique viewpoint on society. Although the films may not have performed well at the box office, they are unquestionably eye-openers. Bollywood has it all; all you have to do is look. Is there anything we've forgotten?
Watch Anurag's Kashyap's journey in Hindi Film industry on our YouTube channel.