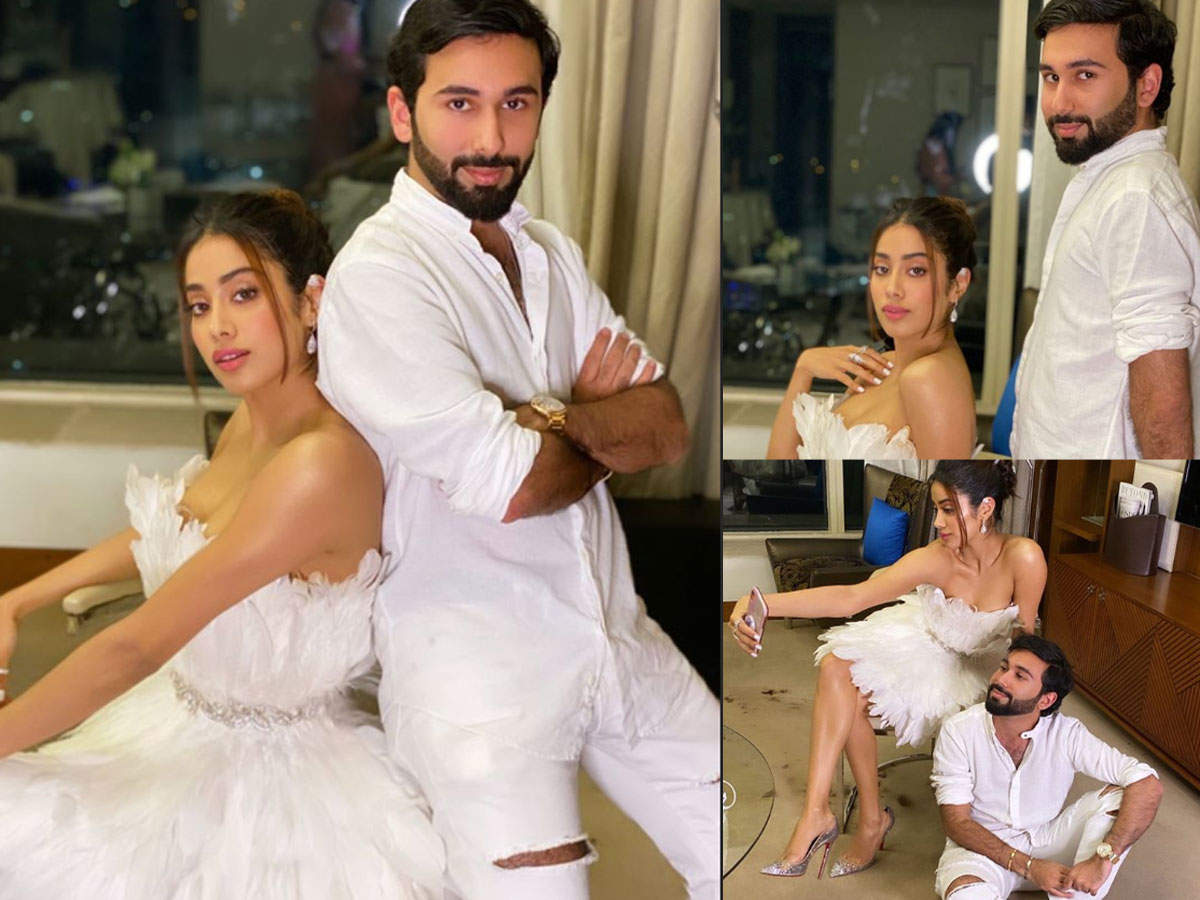 FF Network
When there is a difference spotted between what you see and hear, the rumour comes into play. Their affirmation might live under a plunge, but their outlying display of affinity says a different story. And, they are surely more than 'Just Friends'. B-Town has a few rumoured couples, who are quite often spotted together. But, still, they give a single 'Just Friends' tag to each other. Also, we wish our hot rumoured couple to make the relationship official. Let's have a look at some hot rumoured couples from B-Town.
Jhanhvi Kapoor and Orhan Awatramani:
Jhanhvi Kapoor has recently posted a few pictures wearing a white bikini on Instagram. Previously, there were some rumours that she is dating Karthik Aryan. But, after Karthik's exit from Dostana 2, this news didn't come up again. Well, in her recent post on Instagram she is holding the hand of Mystery boy while walking towards the beach. Jhanhvi Kapoor is fond of beaches and quite often she shares her pictures from the beach. The guy is Orhan Awatramani who is apparently Jhanhvi's friend. There was a lot of appreciation in the comment box by her fans. Now, the question is how far will this chemistry go?
Katrina Kaif and Vicky Kaushal:
These two are rumoured to be dating for close to two years now. However, they never made it official. Vicky Kaushal says that his personal life is a matter that he guards zealously. Similarly, Katrina also stayed shut about this matter. Whereas, several times they both were spotted together on a few occasions. A few days back Harsh Vardhan Kapoor confirmed that Katrina Kaif and Vicky Kaushal are dating. But this statement left Katrina fuming. She says that Harsh Vardhan is not his friend. She barely knows him. So, he would have asked her before talking about her personal life. But, the reason behind this statement of Katrina can be her past relationship with Ranbir Kapoor. They both dated for 5 years and it ended abruptly. So, there is a possibility that it's the fear of Katrina losing her love again. Vicky Kaushal's last relationship ended in 2019. Sources say that Katrina Kaif was the reason behind it. 
Kiara Advani and Sidharth Malhotra: 
Kiara Advani and Sidharth Malhotra share a close bond and they both were rumoured to be dating. Their close bond seems visible on their social media pages. Quite often they comment on each other's posts. Recently, Sidharth posted a Sunkissed picture on Instagram to which Kiara commented "Wow the photographer is too good". There is a possibility that this picture is from the Maldives, where Kiara and Sidharth were spotted together. Kiara somewhere hinted that she is dating Sidharth in an interview. When she was asked about the last time, she went on a date with someone. To which Kiara answered, "Last time I went on a date was two months back". After doing time travel, we found out that in January, Kiara met Sidharth's parents and they enjoyed a moreish lunch at a restaurant in Mumbai. 
Tara Sutaria and Adar Jain:
Tara Sutaria and Adar Jain are one of the most talked-about couples in Bollywood. They both are quite often spotted together on vacations and family functions. In a recent interview, Aadar hinted about a couple's plan to get engaged soon. They both never hesitated to make public appearances together. Also, they exchange comments on each other's posts on Instagram. However, they never talked about their relationship in public. Adar says that he liked to keep his personal and professional lives separate. He added, "I and Tara are in a very happy space right now". 
Disha Patani and Tiger Shroff:
Disha Patani and Tiger Shroff have been rumoured of dating each other for many years. But they are quite often spotted together in public. In 2020, they went on a vacation to the Maldives twice. However, actor Anil Kapoor has confirmed their relationship, in The Kapil Sharma Show, in January. Tiger and Disha have worked together in Baaghi 2. Their dating rumour is on the verge of confirmation due to their regular vacations together, and frequent public appearances. Recently, on Disha's birthday, Tiger's Mother shared a heartfelt birthday wish for her. Also, Disha and Tiger shared a video dancing on Instagram. This video was posted with the caption "Happy Birthday Villain". This is about Disha's upcoming movie 'Ek Villain Returns'. However, they never confirmed their relationship in public. Also, when asked they both reply in a way that they are continuously trying to impress each other. 
Athiya Shetty and KL Rahul:
Athiya Shetty and Kl Rahul quite often share pictures on Instagram with each other. Many times, they are spotted together. Recently, she posted a picture on Instagram that went viral on the internet. Now, her fans are wondering if she is in England with KL Rahul for the World Test Championship against New Zealand. Another hint that they both are together is the duo shared a picture at the same place in Southampton. Also, they both gave a similar caption to the post. This is not the first time they are spotted together. But they never made their relationship official.